The NICEIC (National Inspection Council for Electrical Installation Contracting) is a consumer protection organisation set up in 1956 to protect people against faulty or unsafe electrical installations. Non-profit making and registered as a charity, it is supported by all sectors of the electrical industry.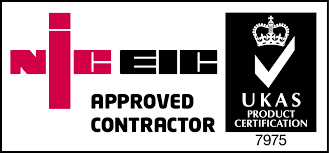 Trained inspecting engineers inspect and report on representative samples of installation work of every Approved Contractor as well as the premises, equipment and staff qualifications.
As an NICEIC approved contractor, we work to standards set out in the "Regulations for Electrical Installations", otherwise known as the IET Wiring Regulations published by the Institution of Electrical Engineers.
The latest edition of these has been given the status of British Standard BS7671. Our enrolment with the NICEIC is entirely voluntary and there is no legal obligation on our part, but NICEIC approval is a sure indication to our customers that we work to very high standards. Using contractors registered with the NICEIC also has the added security of their Platinum Promise and we have been called upon to assist with this on numerous occasions.
We are also members of the Trustmark scheme and listed as a Derbyshire County Council Trusted Trader, both of which are consumer bodies which ensure that all listed companies comply with consumer laws and regulations.
You can also see more of our professional qualifications and accreditations towards the bottom of the page and click on the logos to see our information listed on the official web site listings of each accrediting body.